For those of you who don't know me well beyond this venue, I'm an author.  I've been published in a few places  and I regularly contribute to several online magazines. I've even appeared on the Nightly News with Brian Williams (gosh that was 4years ago, how'd that happen?) So, not only am I a raging code junkie, I am a wordsmith as well.
I've been dying to share this good news with you all for months, but I've kept it all under wraps until now!  On January 1, 2013, the inaugural issue of  where women create Business hit the stands!
As a part of the  Where Women Create family, wwc BUSINESS taps into the minds of the most influential small artisan women entrepreneurs for an in-depth look at their professional lives. In addition to the inspiring stores and the simply beautiful photography that you have come to expect from both WHERE WOMEN CREATE and WHERE WOMEN COOK, each feature will provide a tangible and qualified takeaway that readers and professional-minded women of all levels can apply to their own businesses – everything from how to gain targeted exposure through product placement to how to hire an employee, how to apply for an SBA loan, or find the perfect PR agent. This is the publication that will help all small entrepreneurs work smarter, not just harder, and give them the resources and the community to manage and grow their "American Dream"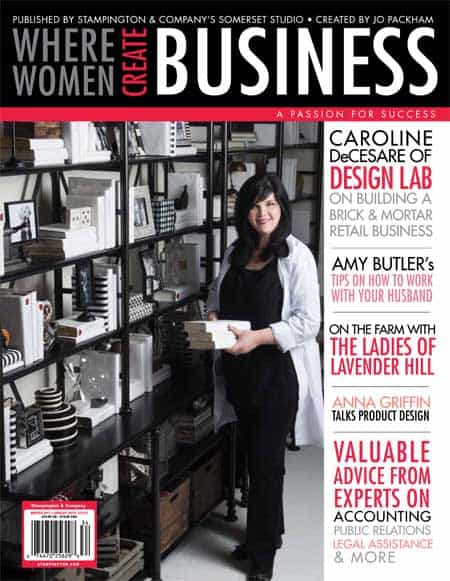 Where Women Create, Where Women Cook and where women create BUSINESS  are the  creative children of  my friend, publisher, editor,  and mentor,  Jo Packham .  Jo is a successful entrepreneur with her own publishing company, WWC PRESS, and is currently partnering with Stampington & Company to produce the best selling magazines: Where Women Create — Inspiring Work Spaces of Extraordinary Women; Where Women Cook, The Heart & Soul of Cooking; and where women create BUSINESS, A Passion for Success.  Jo has personally authored more than 40 titles, including her best selling titles: Where Women Create, Where Women Create: Book of Organizaton, Where Women Cook CELEBRATE, and PIEOGRAPHY.
I received a copy of the magazine  last week, as I was headed out to the Gator Bowl and I was more than jazzed to see my regular colum, WEBSITES 101, listed there !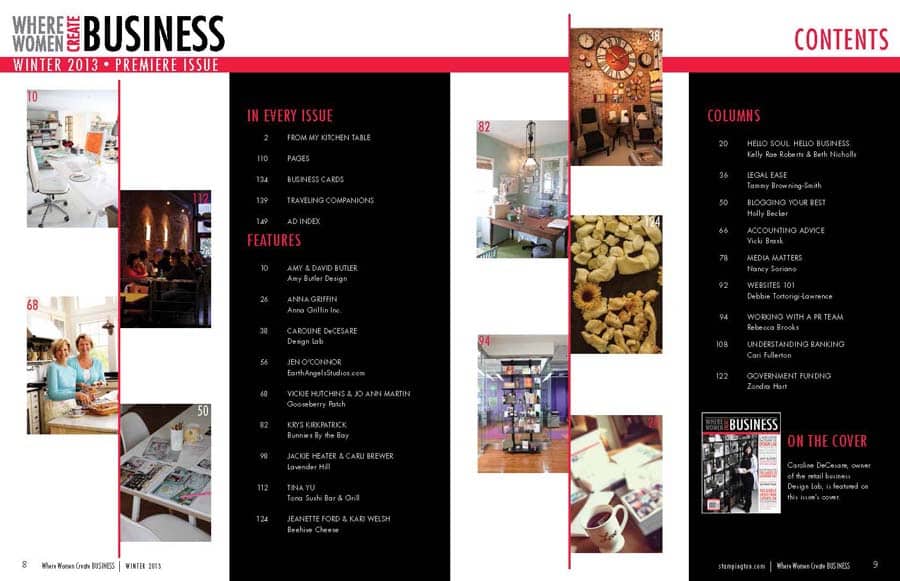 Working with Jo and the entire staff at WWC Press, Where Women Create and Where Women Cook over the last  three years has been  such a joy!  To have been included in the Column author list for this magazine, just, as we say here in the South, 'ICED MY CAKE'!   You can take a look at the magazine's  Flip Book and subscribe online.  And as a special treat, I've been given a subscription  to give away to ONE LUCKY READER.
Just follow the instructions in the widget, leave a comment on this blog and You're entered. You can gain various extra entries in the widget!
a Rafflecopter giveaway

Where Women Create BUSINESS is currently available in most Costco warehouses. The new issue of Where Women Create will be available in February. The new issue of Where Women Cook will be available in March.